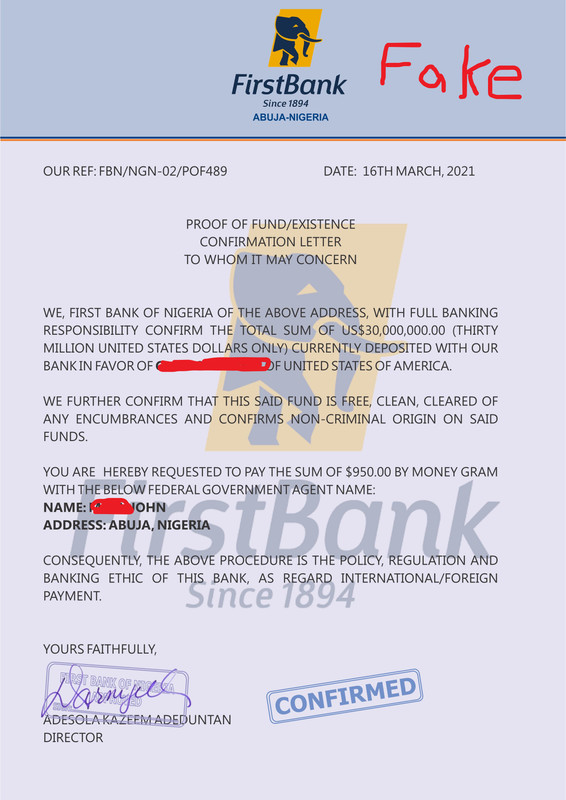 This document isn't much to look at, but I've been baiting this guy for almost 2 months. My character is due to receive $30 million, but he has declined to send any documentation of this to support the claim. He has sent all manner of i.d. to me to prove he is legitimate, but no papers. He has repeatedly given me 24 hours to send money or it will all be cancelled. Many such deadlines have passed. I have pasted some banter between my old man character and the lad over the last few weeks. He has insisted on receiving full payment prior to documents being released. I finally wore him down. I think he needs to have a nice sum of money sent to him via Moneygram, perhaps with extra security features added ???? I'm sure he will appreciate my concern that no one intercept his money.
Sir I am still waiting for the paperwork you promised me to help explain this fund. I will need it for tax purposes.
As a matter of urgency you are advised to go ahead To western union
or Money gram or by RIA money transfer
and send $350 to the account officer with name bellow:
Once I have the paperwork you promised I will send the fee. Please stop delaying this by ignoring me. I have the money ready to release.
The paper work is available we need money at lest $50 to dispatched
you the document by courier service and i will pass you the tracking
number
I do not want the documents by courier. Send them via email. Your delays are very annoying.
we needed the fees to obtain you the document then i can send it by email
I am not sending any money until I see documents. No one hands over such enormous amounts of money without documentation. If you cannot do so, this means this is fake.
i will obtain you the document today after you have re confirm to me
your full details home address and bank names account number and ID
card for easy identification
You do not need any of that info to send me documents. All that information should be on file. Until I see documents, I will not send personal information or bank info. Stop delaying this. You keep putting conditions on this rather than demonstrating this is real. I am starting to suspect you might be making this up as any reputable agent would have just sent paperwork to me via email.
What is going on here?
Once again, instead of just sending the documents, you move sideways instead of forward. Copy and send the documents and I will send the fee plus the copying fee you indicated previously.
Your delays are an indication you are not qualified to hold the office which you do. A competent agent would have had this done days ago and been up front from the start.
I can see now your insulting my integrity please can you permit us
cancel the payment and go for a change of ownership
I am sorry for late replied i was so busy in the board directors
meeting we held last night please Your mail noted and i am going to
Provide you the documentation on your behalf after you have make the
payment fees today .
The document will get to your hands after you has make the payment
this Monday morning , i am waiting for the payment slip by money gram
as soon as possible.
Since you have the paper work right there, why are you not sending it immediately? I am trying to arrange a ride into town with my daughter, and while I wait, you could be sending the papers now.
Thank for your effort The papers is not the problems because we are
awaiting for the said fees from you today to obtain the vital
documentation on your behalf that was standing before your immediate
payment.
You told me 4 days ago you were going to send the documents. I still have nothing. I have the money ready and am waiting for them so I can arrange with my daughter to take me to town. She said no one sends money without paperwork. I agree. So send what you have so I can do this. Your needless delays are frustrating this process.
You better stopped frustrating this process.the document will be
ready after you have make the payment today for the procession the
release of obtaining the document on your behalf that was standing
before your progress. i am waiting for the payment slip from you asap
My daughter told me to offer a compromise. There is a file there with details and info. regarding this payment. I am asking for some of the documents now, and will send the money, and the remaining details to be sent after the payment is made. That is fair. I don't need all the papers up front, but once I receive some, I will send money via moneygram to you.

I appreciate your flexibility and sense of fairness in this matter.
Listen carefully the document papers details and info. regarding this
payment should be obtain on your behalf after you have make the
payment today how many times will i tell you this. delay is dangerous.
My daughter tells me that no one would just send money with no paperwork. That is not how these things work. I provided an outline of the compromise: you send some documents and I will send the payment. Once you have the entire payment, you will send the remainder of the papers and of course, the funds.
Your refusal is causing painful delays and I worry with each delay which you cause that it demonstrates this is not real. I have believed in this from the start but with no papers, how can i?
For your perusal here is the proof of the funds papers on your behalf today.

I am looking forward to hear back from you as soon as possible.

Thank you. It is evening here now in Canada but I will get my daughter to give me a ride into town tomorrow morning to send the fees to your agent. You have eased an old man's mind considerably thru your kindness and professionalism. Are you able to accept a gift from me? I'd like to send you a bit of money from this fund as a thank you.
Thank you very much for your effort try first make the payment
tomorrow morning for your progress then you are free to offer me a
gift of money from the funds.
Now that I won the battle, I will frustrate him with moneygram hotline issues. It amazes me that for weeks I have told him I am in Canada but he insists the US gov't in cooperation with the Nigerian gov't is sending me millions because my name was selected. I still have no idea why it was selected......LOL